Buddhas of Paku Cave
Asia Travel Book / PUBLIÉ LE 13/05/2012 /
0 COMMENTAIRE(S)
The awakening took place very early this morning. Indeed, at 4:30 drum roll in the street procession of monks. Why is this so early and not 6:30 as usual? No one was able to give us the answer. The procession was to be consistent because the drum sound was well used. We get up? We rise not? Short! We stayed in the room. It goes back to sleep ... and 6:30, but here we go again with a smaller drum this time. As we had decided not to attend the procession today but tomorrow, we went through the drum but without seeing the parade. We finally got up at 7:00 because we had decided this morning to go visit the "Cave Paku" caves located upstream from Luang Prabang to more than one thirty in the boat. After an interminable wait, we climb with six other tourists in a small wooden boat, long and slender going back into the river bordering the banks, in order to avoid the strong current that faces us. Laotians were really efforts to provide regarding the comfort of our European séants. The small wooden bench that does not extend the legs turns agony after a few minutes. After two hours of ski Mekong, we finally arrive at the famous caves of Paku. A king would have stayed in the early hours of the birth of Buddhism and it has filed a Buddha statue. Must be done because the cave is located in the middle of a cliff, though steep. You really have a twisted mind to go and leave a Buddha statue in a place like this. Short! It gave ideas to all people who have succeeded in the cave so much so that after some centuries, the Buddhas: y'en entire museum.Several thousand. Small, large, tiny, metal, stone, gold, plastic, glass. Of the buddhas of the eighteenth century to the present. Those before were stolen, from what I understood.Therefore, the cave became a place of pilgrimage for Buddhists from around the world.At the bend of the staircase that leads to "the collection of Buddhas" you cross the Chinese, Hindus, Japanese, Laotian ... and hundreds of tourists. Good! It not break three legs of a duck, especially since it is not very well lit (with some candles). It's dirty, cleaning has never been done and there are plenty of incense smoke because all these people come here to pray. The statues are, mostly, all filthy and dilapidated.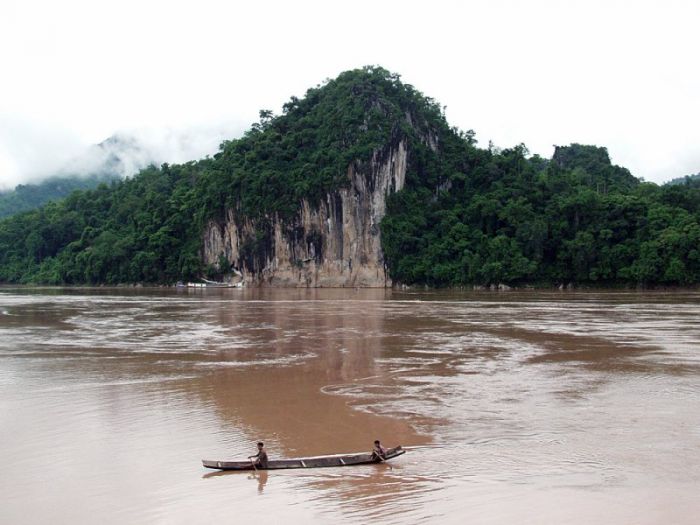 But hey! I think I made pretty pictures. I got back from a Japanese girl who was in a prayer in front of a Buddha painted all red. She kept talking, hands clasped, eyes closed.It seemed to me that this brave lady had a lot to ask Grandpa. We quietly withdraw. Will go out and get some air. In a few minutes our boat awaits us at the foot of the cliff walk away. It's time to stretch their legs before reliving the ordeal of going. The staircase leading to a restaurant is quite stiff. A restaurant? Yeah! Who said to Buddha Cave, said pilgrimage. And who says pilgrimage restaurant said to sustain the pilgrim. To get there, we have used is a staircase. On each step a child tries to sell you something incredible: a small living bird caged. The bird should be the size of a sparrow, its wicker cage perforated like a bowl.



"You give me a dollar and you release the bird! "



It made me angry. Hundreds of children who carry around a poor little sparrow of nothing in a cage all the time they hit, they do fall, they launch like it was a balloon ... and mothers behind even in rags begging you to open the cage and the little bird watch it fly is beautiful. Ben and NO! It is not pretty! Because the Japanese that I saw in the cave praying Buddha must have felt divinely obliged to give a kid a dollar to open a cage. The problem is that the little bird is so struck that he can not fly. So the kid takes the spear.The bam crashes. He takes it up the recovery ... too bad!



"Hey! Madam Japanese who pray to Buddha! There's your ship awaits you! "



So it goes ... and of course the kid glue together the sparrow in a cage and the small game is restarted with a new worshiper of Buddha or any tourist.



We left on our boat. I was sad.

We thought we were going to rebuild morale among docking distillers.



A small village along the river, smiling children and naked bathing in the muddy water of the Mekong: welcome among manufacturers Loaloa, the famous Lao whiskey certainly destroys more than it peps. Again: disappointment! (It is far from Gege at Gorvello!) The whiskey is presented in small bottles containing either a lizard or a gigantic scorpion, a water snake or even a small cobra unearth in the Lao the surrounding jungle.



Earlier this afternoon, we decided to go to console us Waterfalls (stunts in English) of Xi Xuong, located about thirty kilometers south of Luang Prabang. We went by minibus with a dozen other visitors. The road was very nice, especially under the beautiful sun that was missing for two days. We felt we were rolling right in Perigord. Shade, the coolness from trees. Teak forests that replant Laotian out of sight after seeing their forests devastated by Ikea Kitchen and More. Those grow for twenty years or thirty, and then will be destroyed before a new planting is the light of day. Some plots of a bright green contrast with the rice fallow. Papaya with dozens of large fruit jostle with palm trees and giant bamboos. That's what I say: it has all the Périgord!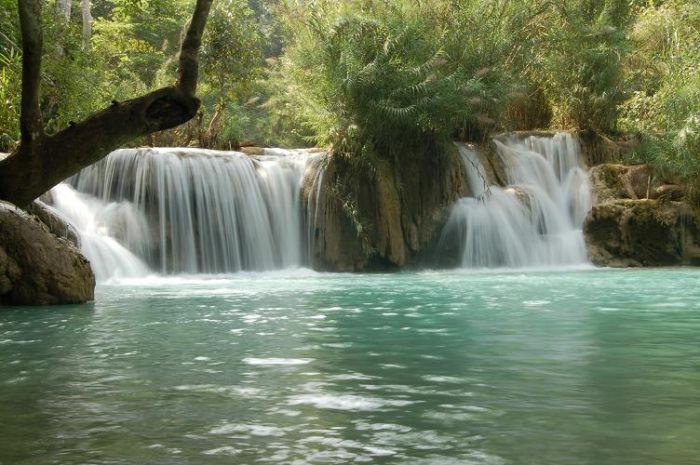 We arrived at the foot of a mountain covered with lush jungle. The small path leads you first near a park where bears frolic Asians behind barbed wire. (No comment!). Then the trail winds through the forest and after crossing several small wooden bridges you find yourself before a vision of what size must be Paradise. Waterfalls, lianas, orchids, butterflies and a huge water that sparkles in the sun through the canopy. Soft water, slightly warm, clear some places, muddy in the cascades.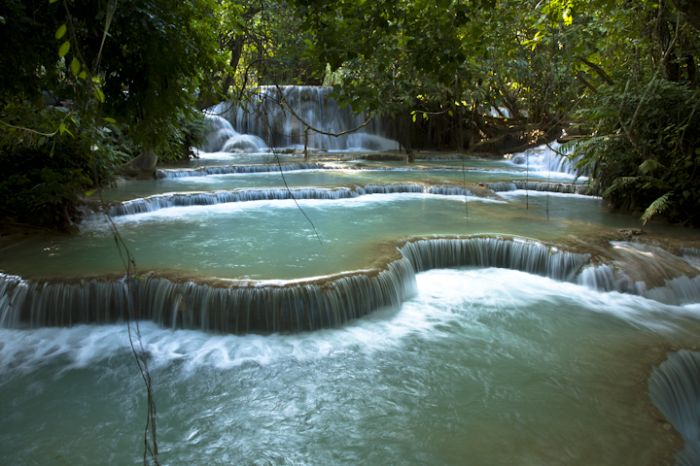 The swimsuit! You wet your feet and calves. You sit in the fall: it's fresh. You lie. You put yourself on the back. It's cold ... but the massage it gives is divine. And finally, you definitely picks a head and you are in the land of Tahiti Shower. The dream: y'avait long as we had not had that feeling of "green nature". Having dabbled on for a good half hour, you come away with a baby's skin and especially: you feel clean!



Ah yes! The Waterfalls of Xuong Xi: it was too much!
Article published on 13/05/2012 at 15h41
in the category « Asia Travel Book ».