Embellish Your Style with the Perfect Jewels
Chinese Décoration / PUBLIÉ LE 25/08/2014 /
0 COMMENTAIRE(S)
Buying jewels is always a great pleasure for every stylish woman. Although, it is not always easy to pick the ones that would go perfectly with our style, morphology and clothes. Sometimes, we buy them on the spur of the moment, just because we find them pretty but it is very important, for every fashionista, to match their jewels with both their outfit and personality. A woman with a gypsy or ethnic style should not wear jewels set with rhinestone or diamond. As well as a person with a classic look should not wear wooden or fancy jewelry with their suits, elegant skirts and pumps. There is a type of jewelry which is simple, classic and timeless. It can be worn with almost everything, every style and every character. They are fine and subtle with no pearls or gems, or yes but just a little. Those jewels are easy to wear and perfect for daily wear. On the other side, fancy jewels with stones, rhinestones or big pearls must be worn sparingly. Avoid wearing fancy earrings, necklace, ring and bracelet at the same, that would really look heavy and you run the risk of resembling a Christmas tree.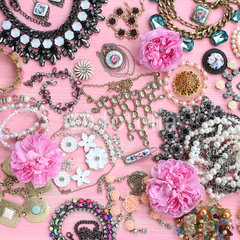 Ethnic, bohemian and tribal jewelry only match with particular outfits, in perfect adequacy with them. When talking about jewelry, morphology always needs to be considered. Small women should avoid huge jewelry because it makes look even smaller. It is preferable to choose fine and colored jewels. For women who are relatively tall, they can wear long necklaces with pendant. The choice of the earrings depends on everyone's face shape. Persons with round face can wear thin and small earrings while those with long face should avoid in every way dangling earrings. Finally, the choice of jewels may also depends on the season, colored in summer, for instance, and discreet in winter
Article published on 25/08/2014 at 15h55
in the category « Chinese Décoration ».