Good Morning Vietnam
Asia Travel Book / PUBLIÉ LE 19/05/2012 /
0 COMMENTAIRE(S)
Day of waiting and transition. We leave our hotel, yet another sip fresh orange juice.Another trip to the market for food. It will be put in their eyes and nostrils.



We take a touc touc to get to the airport. When I say "airport" is a big word. Our plane is waiting for us. A big propeller on each side that an employee is being painted. There is still a bit worried. But finally: happy surprise as the inside is clean nickel. Pretty little hostess so "Barbie".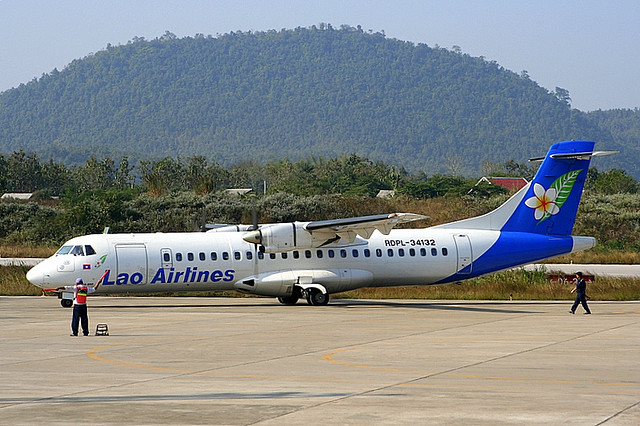 We took off at zero hour! We fly over Laos. As mountains and more mountains out of sight. Sure that economic development with a similar geography: it will not be simple.That of the forest, no town, no village hundreds of kilometers.



Bye Bye Laos!



And GOOD MORNING ...



VIETNAM! or rather: "VIETNAM GOOD AFTERNOON!"



We arrive early evening in Hanoi. The sky is very overcast. I appeal to the bus that takes us to the city center that I believe to be an Aboriginal. In fact it is a South Korean who comes to do business in Vietnam. He knows a nice hotel and not too expensive.(350,000 Dong. For 1 Euro, you are given 26 000 Dong. So you notes 100,000 Dongs! It's going to be easy, the changes here. It will only multiply by 4 to get a better idea Euro. And for those who still calculate Franc? Multiply by 6, 55 or ... take a calculator!)



We get off the bus probably the wrong place. Who cares! The South Korean super nice and gives us the taxi we finally arrived in the city center ... or rather in the heart of an ant traveling at fantastic motorcycle and whose reason for living is:



HORN! (We'll talk tomorrow!)



We discover the "Hotel Diplomacy." The 4th floor room with no windows. It smells bad.The bathroom, although clean, smells like sewage or "very withdrawn". Finally! It looks like something like that!



We come out at night. It is very cool (20 °). Here, crawling. Worse than in Thailand where we had seen "the nest of Chinatown" our bus. Here: we are in! We will learn codes quickly: this is vital!



Short tour of the block. We tell ourselves that we will not be able to stay, this is not a place for us who come from "zen Lao." Fortunately, we fall into a small bakery that makes us partly forget the horrors of the street. (Ah, The French!) A chocolate cake, a second, and then a little creme caramel, another, a cafe, re the cake ... all for 1 euro. Oh! It will please me. And I say I will quickly regain the lost pounds so far.



We find another hotel as well as the first for only 220,000 Dong. Tomorrow, it's decided: we leave the stinking Diplomacy for ... the "Violet". It was invented!
Article published on 19/05/2012 at 07h06
in the category « Asia Travel Book ».