Luang Prabang night market
Asia Travel Book / PUBLIÉ LE 16/05/2012 /
0 COMMENTAIRE(S)
The night market in Luang Prabang moved from 4:00 p.m. to 4:30 p.m. on one of the main arteries of the city. Peddlers invest primarily sidewalks and pavement. An electrical cable connections serving more than doubtful of electricity for each stall. Women have their wares on carpets. There are many articles fabric: silk dresses, pants, small travel kits, bed linen ... We market of products of wood, opium pipes, and string puppets, chess sets, key chains. A pretty mess! The women sit behind their display. Many of them give the breast to youngest, others sleep curled up, but all eat. With us: we make Sudokus. Here: we eat! And that's not to say they are large, most Lao! Moreover, they are all rather small and petty.
That market dried: do not hesitate to divide the price by two. If it lowers its price, it should be allowed to come and especially not budge from our first proposal. It's part of the game (if it is!) Gradually, after much hesitation and with blows of calculating machine, smiles and caring in a language that looks like nothing, everyone reaches an agreement. But once the transaction is made, we arrange the smiles. It's just "Sabadee! And now break you! Next customer? "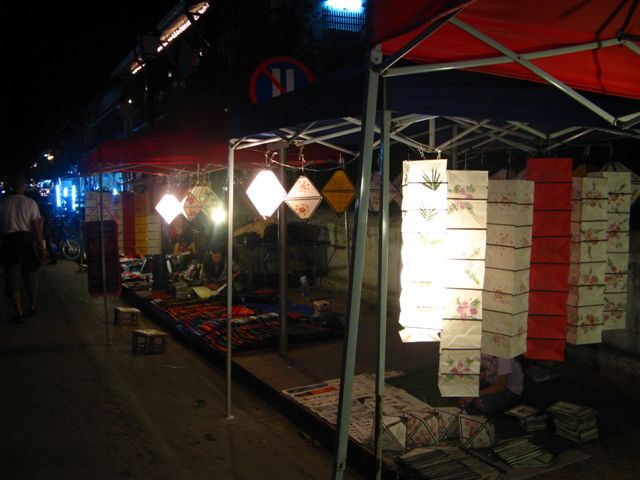 It is this last night we found a small side street packed with people and black at all! Here, no memories, no Chinese items sold to the punch. Here, they sell food that the food, nothing but food. That's the market, my good lady! Hundreds of stalls, all the same! Hygiene another time! A table greasy and sticky though, a small bench ... which resembles the table.
The bamboo skewers dotted piece of chicken (all songs are good to sell), pigs (all songs are good to sell too!) On the same skewer: meat, limited quantities of fat, many, skin, liver, heart, gizzard, bone, cartilage, lung, funny stuff that not even imagine that it could come from an animal ... eye, perhaps? ... Short! You entered in your kebab dripping fat that runs through the banana leaf as an attitude and you ingested without knowing what you swallow. Here we grill it! Fish, meat, fruits, eggs, vegetables, sausages ... I know! For 10,000 kip, you can fill your plate of mixed vegetables, rice, spring rolls, tips in sauce ...
"Warning: This is the chili!
"It's not coconut is noodles!
-Good! Good! Mister! No spicy!
-Oh! If this is "no spicy", they will be tempted! ... And ben! I should not have!
And that! The trick with green and black species of mushrooms, you've tasted! Have you seen? Looks like the rat!
-You would not have one or two crickets, for a change! "
There's soy, eggplant in a thousand colors, micro tomatoes, lettuce, herbs, heaps of garlic and chopped onions, tripe, fish scraps, coffee, tea bags, grapes, peppers, oranges, pancakes, eggs boiled, barbecued, raw ... Noodle soup! Noodle soup! Soup whatever you want.
You sit with other hungry people on the corner of a bench and their cuffs after you clean your water before putting your plate in a banana leaf. So much for turista, cholera, malaria, H1N1, appendicitis or bird flu: you chew, you toasted, you spit or you swallow. You are all over your fingers! It is night! It's hot! A 25 watt bulb illuminates a hundred people. And it gesticulates, and it runs and it laughs!
And touc-touc who wants to spend in the nest: impossible? No! Of course! Patron? A beer! Patron! A coffee ... not too dark! Otherwise I'll keep it and put it in my ink! I owe how much? 10,000 kip! Everything is 10 000 Kips.
A banana to finish! That's the only thing that is wrapped!
And ... all markets are well!
Good night everybody! Tomorrow, Hanoi ahead ...
Article published on 16/05/2012 at 07h47
in the category « Asia Travel Book ».