Luang Prabang
Asia Travel Book / PUBLIÉ LE 01/05/2012 /
0 COMMENTAIRE(S)
When we take leave, I see. Here! Between the wire and the branch of frangipani! Huge! Great as a hand! And it moves! If! If! I saw a foot from forward! God the song! His body out in the sky that turns blue! The prominent abdomen, yellowish, all swollen! It expects small or it has just swallowed a pigeon? And his web ... a real fishing net! And her throne, there in the center, just above the heads of carefree tourists that pass and that have obviously not seen. It? I dare not speak its name! She even moved! It is not plastic! It does not come from the merchant joke! It is true! I'll name it ... but obstruct your ears, it might blow up, fall on your hair, slip into your neck ... No! It's too big! This is ... is ... (I still shudder) is:


the black widow!


One starts backwards, as in the chapel to Buddha! But this time, we know why!


We return to the city center to organize our trip tomorrow in a tour operator. (And now I look over my head if it does not follow me, I'm sure in the nightmares tonight ...)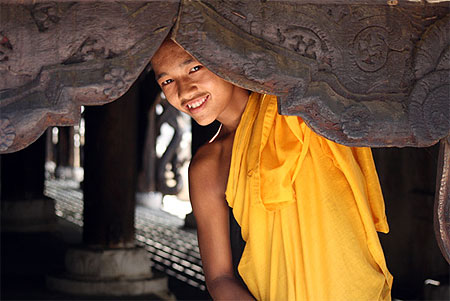 In the afternoon, we start visiting the Royal Museum of Luang Prabang. We stop a few moments before the cars that the United States, Japan and France have offered to Mr. Sin Ravanatam (or something like that!). The "Continental limousines" gleam. The 4 X 4 Toyota throws in full view. And that is the DS has offered any rotten has lost its headlights and windshield? This is Pompom! (Includes who will! Of course, if one is not of Belle Isle, it is more difficult to grasp!)


Then we enter the museum ex-royal palace. Good! This is not Versailles! But it's nice anyway. The lobby is gorgeous: the gilding everywhere, collections of Buddha in the window do you want in this packet of one hundred. Swords, daggers, dishes from China or Limoges, musical instruments, ceremonial uniforms, the bedroom of the queen - with blankets rolled on logs of wood for pillows, the military decorations. Beautiful teak floors, ceilings painted red as in Shanghai Taveau.


But me, the thing that most impressed me is something that has nothing to do with what I just mentioned. These are just four small moonstones, no bigger than a match head that the Yanks have offered to the King. It took reach the heart of Laos to say that I saw moon rocks. Unfortunately, the king Sin gizmo thing will not have long taken advantage of his pieces of the moon. He was sent with his family in a camp of recovery in northern Laos in 1976 by the Communists and had to be there many many big problems because it is still not back ... unless he has decided to spend a very long vacation?
Article published on 01/05/2012 at 11h27
in the category « Asia Travel Book ».