The Cricket, the larva and the cockroach
Asia Travel Book / PUBLIÉ LE 12/03/2012 /
1 COMMENTAIRE(S)
We decided to change hotels because there was work in ours. It was too noisy ... We moved to Baan Boua Guest House. Great little bungalow overlooking a quiet garden, welcome, clean room ... We then left for Chang Saen, supposedly typical village 60 km from Chiang Rai. It has nothing to "typical" and should not be expected by landing here we will find the narrow streets of Pezenas nice or Sarlat. No! What is typical, it's crickets and larvae ... I do not know. Well imagine that I'm tempted. "And that is that the gri gri, and that is that the cricket, and that is that for which the cricket fried? It is for Bibi! "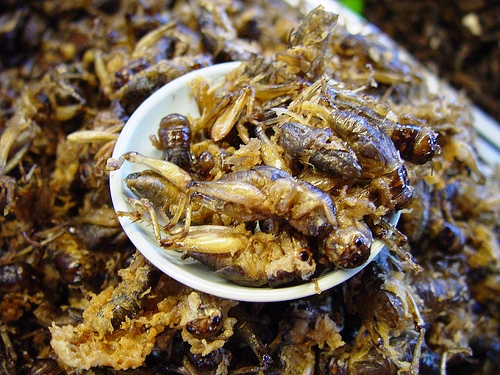 I prepared my bottle of water, enough space around me in case of regurgitation and uncontrolled ... Martine took when I bite into the cricket with the camera. Let our prejudices! Stop! Fried crickets, it's delicious. It has the consistency of toast: crunchy and soft around it. What I liked best is the sweet taste of the shell of the cricket: crispy! I'll have bitten, chewed, swallowed. Not even spit! As I was still hungry, I'm tempted by a larva as large as a hornet plump. She looked appetizing as the seller has offered me the ... A gift, it can not refuse. And there, I was wrong to accept.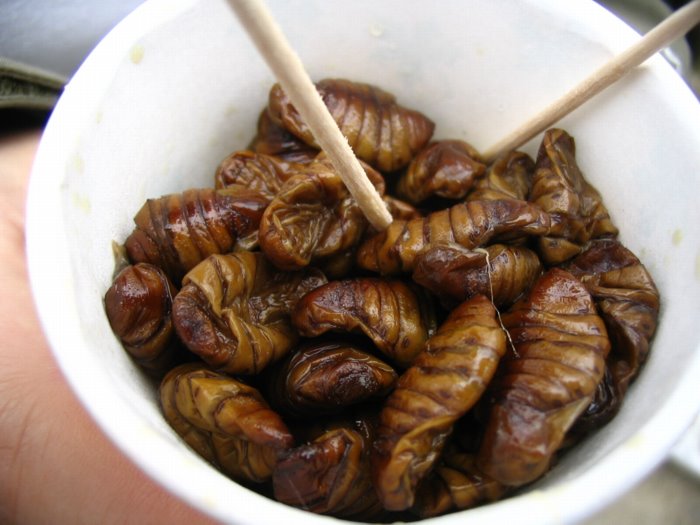 Well, this is not the endives with ham (those who know me know what I think of endives with ham) but it might look like. Head - or tail because I have not done too much attention - has a slightly sweet taste that goes well but the yellow juice that comes out of the abdomen ... I think she was too cool, or maybe not enough. Is that soon becomes an expert on. As I was not hungry, I refused the cockroach as big ... I do not know, half the size of a hand! I was most afraid of not knowing the proper taste. I could have put everywhere and maybe eat some that everyone here is yucky! And since I did not want to offend the seller, nicknamed "Joelle Rebuchon Local", I refrained. In short, I bought some mini mini clementines for dessert.

Sated! A cricket, larva, three mini clementines: what more?!

As we did not know what to do, we went by taxi to the Golden Triangle, a crossroads between Burma, Laos and Thailand. So we see a huge Buddha all covered with gold and mounted on a huge junk silver stainless steel drawn by elephants. Across Laos, Mianmar the north (or Burma if you prefer) and between the three countries: the river Suak (I think) which flows into the Mekong River a little further. It not break three legs of a duck. What was really nice, it was the fresh orange juice, before you rush for 20 Baths that has slipped cooing with happiness! (20 Baths: it must be € 0.40!)

I am writing since the beginning of this story at the front of the bus - very noisy-which brings us back to Chiang Rai. It was the Golden Triangle - Chang Saen in stop! We found ourselves on the back of a pickup truck that was traveling at full speed. It was all disheveled Martine who laughed again. What I did not make him do?!

It's really hot in the bus. The road was smooth, wide, well paved and the driver honks every 20 meters ... and it was 60 km to go! On the edge of the roadway, there are small vendors pineapple. The police stopped us. They searched three women ... Perhaps boatmen opium?

I think I'll put some music in your ears ...

And I dream that the cricket and the larva, awakened by the orange juice, decide to fight their way out, causing the sudden all I could swallow for a week. If this were not the case, tomorrow I drink water directly from the klong (like Dino Risi in "Ugly Dirty and Bad" who has seen this masterpiece of Italian cinema!)

Back in Chiang Rai, we thought we were going to buy flowers and offer them to the owner of the motorcycle shop. For us, the French, you know maybe not eat cockroaches as big as half of one hand ... but we know to be polite and thank the people that make you service!

So I bought a bouquet of roses and we searched in vain for the motorcycle shop: when we arrived in the evening, it was closed!

We went back to the hotel with the bouquet!
« Beurk !! Je ne mangerai jamais ça ! JAMAIS !
»
Posté le 21/03/2012 à 13h21
Article published on 12/03/2012 at 12h30
in the category « Asia Travel Book ».