The Gold Prospector
Asia Travel Book / PUBLIÉ LE 03/04/2012 /
0 COMMENTAIRE(S)
This morning we started the day by making changes because our resources were dry kips. The rate here is done at the customer's head. However, we are able to change against € 50 550 000 kips while in Huay Xei, the rate was 600,000 kip. We meet the head of the local tourist office who speaks French very well. He says he has learned in two years, just by talking to tourists who stop here.


The hardest part is to change our boat ticket because we were supposed to leave this morning. I just told the head of the Transport Company Mékongais Meeting that Martine was sick, she could not take the gunboat (This is Steve McQueen who will be disappointed!) The guy was very cooperative and has changed me the ticket. Then we met Vitsaï, pilot of "speed boat" of his condition. Through the tidy sum of 150,000 kip debated at arm wrestling, Vitsaï ​​takes us to see the gold panners.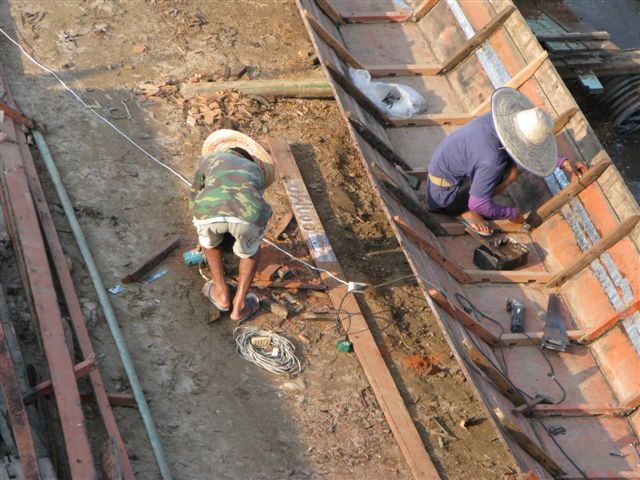 Since the time I wanted to try to "beat" ...


We climbed into his canoe. She does well around ten meters long by one meter wide. Doudou is terrorized my poor:


"But when you take me yet? "She put on a lifejacket ... but I am careful not to say that if we we reverse in the middle of the river's chances of survival are practically nil.


The canoe file at full speed against the current. She goes twice as fast as the boat that we took yesterday. Flush with water, Vitsaï ​​file to a small village where the miners live. Along the way, we crossed on a beach. We drop anchor. We were told to beware, these people were dangerous, we were doing them and blah blah blah blah blah blah and fear. Do you! We come across a family in labor who welcomed us nicely. I walked over to Mom "Mai" which, in the ass pushers, turns his bat into the water by throwing sand in excess As. I take a quick course and decides to help a little boy who fills buckets of sand a little further along the shore. Armed with a single hull, coconut and a species of small iron shovel, he scrapes the sand between two rock veins. He piles up the sand in his two buckets, then fixed on a bamboo stick that is used for balancing. Then he drops the buckets to his mother who washes the sand with his bat. And here I am now Tonton Cristobal gold digger in the brackish waters of the Mekong. I raise my trousers, I ask permission to borrow a bat and I like Mai. Finally, I try ...! I put the bat in the water, I take a basket strainer, I pour the bucket of sand in the basket and I dive all in the water. After shaking it off, I throw stones remaining in the basket and I start to turn and go back to my bat in the water and tilted to remove the sand. After ten minutes - it takes at most 3 Mai to do the same work-I only bat in the bottom of a small handful of sand ... black. Mai takes over. She grabbed my bat, poured a little water and gradually hunt the white sand and even surplus, in sunlight, appear a few hundred micro-yellow flakes. She looks up to me with a smile as big as that (but with very black teeth!)


 "Kham! she said. Kham! "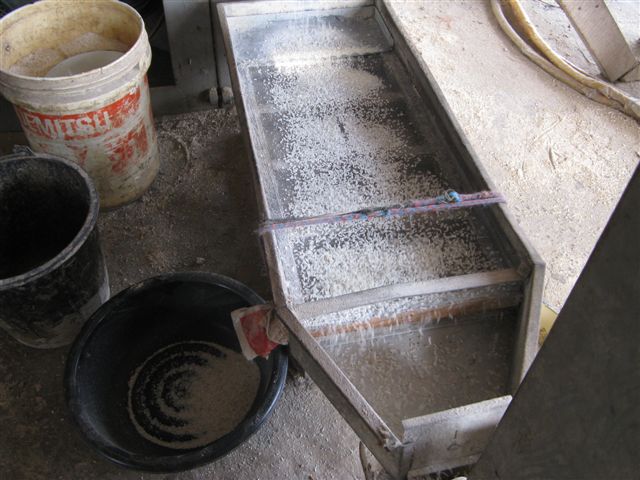 Go! At work! I leave with the kid digging, I bring the buckets to the mother, I turn the bat and I dig and try again. The frenzy of gold has had its effect. I sweat profusely but I want to give them my support. We laugh with the father, with all the cute girls who all wear a hat and a kind of woolen balaclava. (What an idea!) The grandmother complains of a sore back, sore legs, sore arms. You amaze me! Each task is in its non-stop, from morning to night, silently.


Each brings his meager booty rabbet. This residue of sand and gold is poured into a bowl and white will be reworked later to extract the gold. The language barrier will not allow me to know how they do and how they sell.


However, to see their rags and their habitat more than summary, these people have not yet made a fortune. Of "Kham", they did not have to pick up in quintals, far from it.


Anyway, I took a walk not possible and I finally realized one of my dreams: Being an adventurous prospector! I will never forget this magic moment this morning lived on the banks of the Mekong although after two hours I have not picked up enough to return home "sewn ass," as Pierre Perret in his song:


"Tonton Cristobal is back!


Pesos, bullion!
Article published on 03/04/2012 at 07h33
in the category « Asia Travel Book ».