The White Temple
Asia Travel Book / PUBLIÉ LE 20/03/2012 /
0 COMMENTAIRE(S)
When leaving the village in our tuc-tuc, we have not found the thousands of policemen were on duty all along the road. On the way, I thought it was for us! Do you! It was for the Prince of Thailand on his way to the University of Chaeng Saen.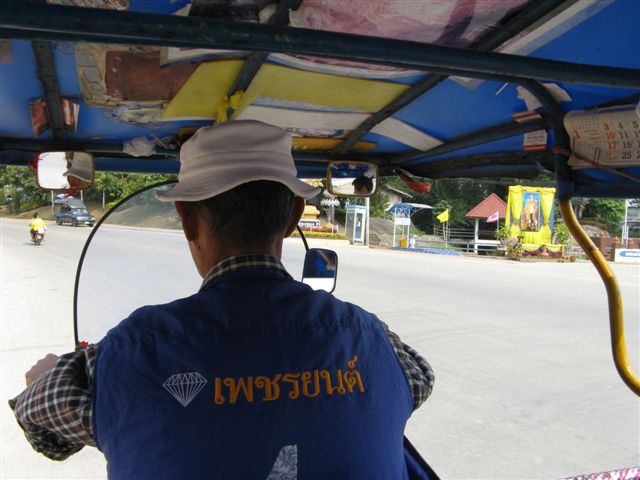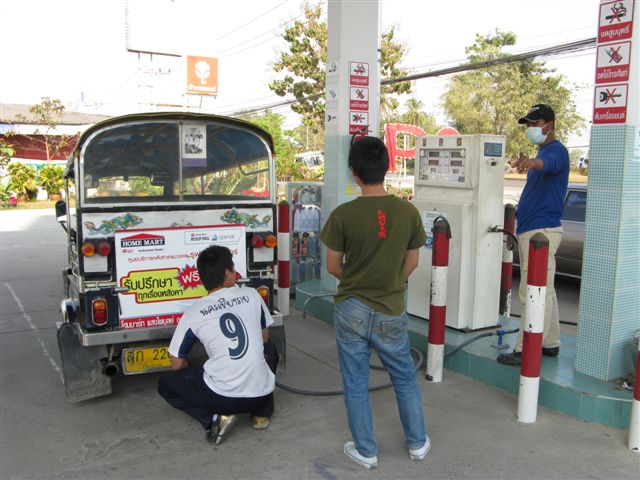 Our driver has transported to White Temple. Even in a dream is unimaginable. Looks like one of those ice sculptures including China (Harbin) offers us every year in winter. The temple is white, accented with thousands of tiny mirrors that make it sparkle. One gets the impression that it's lace. The temple was built recently - fifteen years perhaps-concrete construction. However, it feels like Cinderella's Castle or something like that! Everything is beautifully crafted and even to excess, which gives the whole a character very "kitsch." The roofs are adorned with swans swallow snakes, peacocks make the wheel, chimeras huddle in the ridge. Of spring everywhere pikes, spears, snakes tails. All this to ward off evil spirits. Well, I'd be "evil spirit" I would not walk near the White Temple. Two monsters welcome you to the foot of the staircase: the one armed with an ax cyberintergalactique of the Twelfth Dynasty Morglacs nuclear weapon, the other with a kind of rocket launcher (the hair ...) with arrows very menacing come from everywhere.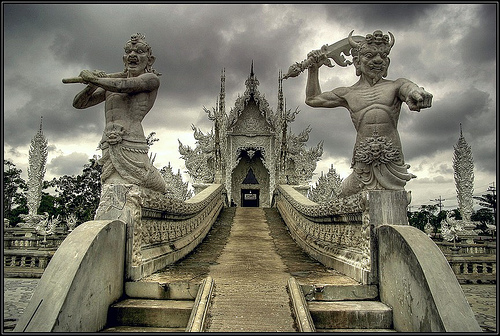 In basins which flow streams of water fish swim, too white, considered sacred. Before taking the stairs leading to the temple itself, there are on each side of a pool that turn out thousands of hands and angular gray. Denoting as I remember, everything here is absolutely white or silver. It's like facing a memorial! It is very strange ... We are still looking for what the sculptor was kind enough to tell us. After the stairs, removing our shoes (this is also like that everywhere in Thailand) and one enters a large room. Facing us, Buddha. Behind the Buddha, a large mural painted in warm colors: red orange, and lots of gold. In front, a monk of wax in the lotus position: it is the founding father of the temple!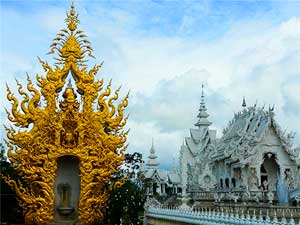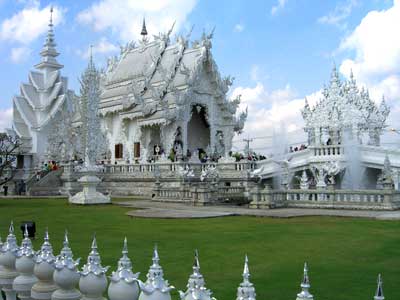 Two young painters are busy on a wall. The temple is not completed. What is particularly odd, the frescoes are already completed. It shows the Twin Towers on fire, bombs falling on the Earth, which spins Spiderman in the air followed by Harlock and Grendizer returning from Devil Vauvert, while James Bond and Michael Jordan avoid a missile fired from a intergalactic ship in flames. Rats out by hundreds of buildings collapse. The worlds are collapsing in a hail of fire. Charlie Chaplin and Hitler face but Superman sprang from his hiding place ... It's going to shit bubbles! In short: it is a great "Anything" which occupies 100 square meters of well wall. And opposite, you're the monk wax and gold Buddha that spectators smile or giggle. The White Temple is worth a visit, even more than one hundred meters, we decided ... to build toilets in a building that looks like the White Temple, but it's all gold. Building a crazy, too, dedicated to the gods of defecation! A door to the Ladies, a door for gentlemen.

Suddenly, I felt charged with a divine mission! Amen!
Article published on 20/03/2012 at 13h40
in the category « Asia Travel Book ».