Calligraphy Brush - Goat Hair Brush - Small
Description
Fine Arts - Brush for Asian and Chinese Calligraphy:
- 100% of our calligraphy brushes are made by the same person, the master calligrapher "Zhuang". Our brushes are entirely handmade using the highest quality materials.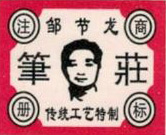 - This brush can really be used for calligraphy. It responds perfectly to the four virtues of the brush:
- Sen (尖): the end of the hair is pointed.
- Sei (斉): when all the hairs are flattened, they are aligned.
- In (円): each part of the brush soaked in water or in ink, can be turned and returned without problem.
- Ken (健): the hairs are well balanced and respond perfectly to the movements given to them.
- We guarantee all our brushes in case of problems with one of the brushes just send us an email.
- Brush Size: 26cm
- Hair Length: 2,5cm
Chinese Brush:
- Also called Calligraphy brush, this kind of brush is one of the Four Treasures of the Study (with inkstone, inkstick and Rice paper).
- According to the Chinese tradition, the brush must meet four conditions in order to become a good brush.
- The four conditions are: Sen (a sharp tip), the Ken (hair balanced), Sei (fur lined) and In (Good hair movement).